I received a free copy of this book from NetGalley for an honest review.
This does not affect in any way my opinion of the book nor the content of my review.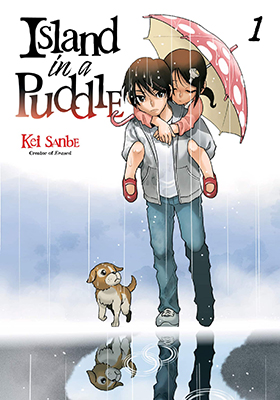 Series:
Island in a Puddle #1
Published by
Kodansha Comics
on March 15, 2022
Demographic:
Seinen
Genres:
Drama
,
Mystery
,
Psychological
Source:
NetGalley
Add to Goodreads

A CHILDHOOD IN THE UNDERWORLD
Minato's tiny apartment might as well be on a deserted island. Despite being in elementary school, it falls on his shoulders to care for his little sister Nagisa, who never stops asking when their mother will make one of her infrequent visits home. One day when she stops by, their mother takes them to an amusement park, only to give Minato some cash and leave them on the Ferris wheel. However, as they reach the top of the ride, lightning strikes their car—but what Minato finds when he awakens is not the grim tragedy he expected . . .

I didn't think twice when the chance to review the first volume in a new series by Kei Sanbe presented itself. How could I possibly have said no to the brilliant mind who created Erased, one of the most thrilling stories out there? And boy, if Island in a Puddle isn't just another gripping series!
Readers are hit by an emotional wave as soon as they find that two kids, a boy and a girl, are left alone tending to themselves and struggling to survive. Where is their mother, and what's behind her infrequent visits? Minato is such a caring boy—and, fortunately, mature for his age—who does anything in his power to not let his little sister worry, while also trying hard to hide their dramatic situation to others. He can't fool everyone, though. A task that becomes quite complicated on a rainy day after a lightning strikes the ferry wheel the kids are riding . . . The unimaginable happens, and your mind starts to wonder while your heart pumps at big speed, but not as fast as Minato's. Trust me when I say the horror this poor kid finds himself into is creepily twisted, and it keeps readers on the edge of their seats!
A suspenseful story with a great pacing and an artwork that suits perfectly the characters—and their moods. Are you ready for your life to turn into a living nightmare? Minato wasn't, but you shall be as brave as him and follow his dark journey until the end!
---