Teaser Tuesday is a weekly bookish meme hosted by MizB @ Books and a Beat.
Wanna play along? Grab your current read, o
pen to a random page and s
hare two sentences from somewhere on that page, being careful NOT to include spoilers (you don't wanna ruin the book for others!). Also, r
emember to include
title & author as well so, if readers like your teaser, they can add the book to their TBR lists!
—————————————————-—————————————————-———–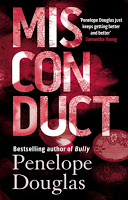 This week's teaser: MISCONDUCT by Penelope Douglas
"On the rare occasion I have something I'd rather be doing instead of work, I have to bargain with myself," he explained, and locked his gaze on mine. "And I can't put my hands on you until I'm done with my work. That's the bargain today."
Leave a comment with a link to your TT so I can stop by and be teased by them all! 😉