Rockin' around the ZenPop treats at the Jolly Party hop!
Did you really think I would leave you without treats at Christmas? You should know by now that I never forget about my readers, and this year I even have a special surprise for you all . . . But first, get ready for a magical time with some delicacies brought straight from Japan that are guaranteed to reach your stomachs hearts!
Come on, read on—and sing along—to find out what this Christmas is all about . . .
MARUCHAN SEIMEN CUP GOKU NOU GYOKAI TONKOTSU FROM TOYO SUISAN
It seems like seafood and pork are a trendy combination in Japan, and now I can understand why! This large cup of noodles comes with a thick soup made of seafood, pork bones and soy sauce, and also some nice toppings that make it such a rich dish to enjoy. Not only for the palate, but for the eyes as well. Isn't the grilled pork the 'cherry on top' of this delicious ramen? You'll have to agree that it's lovely—better than a cherry in this case—and I assure you the taste is no less.
CUP NOODLE SEAFOOD NOODLE FROM NISSIN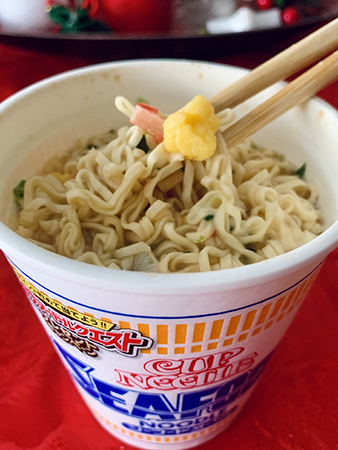 Another combination of seafood and pork—this one from Nissin (日清)—that can be savoured in different ways. In fact, extra ingredients such as milk, tomato juice, or cheese, can be added to make it even tastier. You can try experimenting with original ingredients as well, but the Cup Noodle (カップヌード) is a classic that can be fully enjoyed as it is, because it already contains many seasonings that make the noodles and the soup truly delicious!
OTSUBU APOLLO HOKKAIDO SAN MILK TO ZEITAKU ICHIGO FROM MEIJI
Strawberries! There, I've said it all. No, wait, I have another word: chocolate! There you go, enjoy! However, if for some obscure reason two of the most delicious words in the world aren't enough to convince you, then leave it to Hokkaido milk to do it, its quality is top-notch! Believe me, the first bite will be sensational, and staying away from these will put your strength to the test . . .
PRIDE POTATO KANAZAWA NO AMAEBI FROM KOIKEYA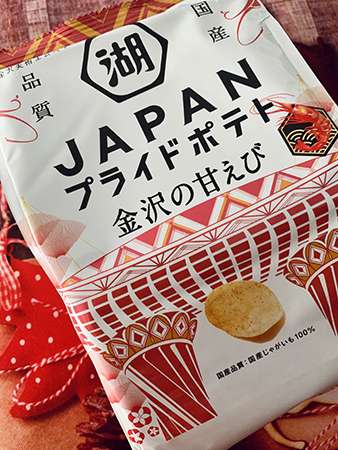 These potato chips from Kanazawa, a city famous for its art—the package you see was designed by students from the Ishikawa College of Arts—and also its sweet shrimps, were a real surprise. As soon as you open the package, the strong smell of shrimps invades your nose, but then you discover that the taste is milder than expected. Also, they look like ordinary chips, but don't be fooled because the rich flavour makes them unique!
KIT KAT LITTLE OTONA NO AMASA MILK & WHITE FROM NESTLE
I've always loved Kit Kat (キットカット), but I've never tried it in a shape like this before. How should I put it? It's pretty, tasty, and the combination of milk and white chocolate goes perfectly with the Kit Kat wafers. The white chocolate coating includes some feuillantine and it is said to make it more addictive. My opinion? I started eating and only stopped when they were finished, so you can easily draw your own conclusions while at the same time kindly bring me more. Please? Love ya!
HASHED POTATO KOUBASHI GANNEN FROM KOIKEYA
Cube-shaped hashed potatoes sprinkled with fragrant rock salt could become my new go-to snack! Truly, tasting these potatoes is a very pleasant experience, and having them packed in squares is nice and practical. If you love the crunchy texture, then you'll particularly like this snack that also lets you savour the umami flavour and makes you keep putting your hand in the package . . .
GOGO NO KOUCHA CARAMEL MILK TEA HOT FROM KIRIN
Is there anything better than a cup of tea on a cold winter day? Make yourself comfortable, grab a book, and drink Gogo-no-Kocha (午後の紅茶) Caramel Milk Tea (キャラメルミルクティー), the effect is superb! I warmed it up before drinking it and I was immediately struck by a pleasant aroma, but what really amazed me was being able to distinctly distinguish the three main flavours as I sipped it: caramel, milk, and black tea. I simply loved it, the comfort it gives is that of a warm blanket that envelops you and makes you feel in harmony with everything . . .
SOUR PAPER CANDY CIDER FROM YAOKIN
And at Christmas, we couldn't be without something to make us feel like children, could we? So, here is the sour paper candy (サワーペーパーキャンディ) that some may be familiar with. Have you ever experienced that tingling sensation on your tongue that makes you squint and feel happy for no particular reason? If you haven't, I recommend you try it, and if you have, why not go back to being happy and carefree as children? It's worth it!
********************
What do you think? Didn't Christmas just get sweeter?
And if you have been paying attention, you know that there is a surprise to be revealed . . . So, here we go! *drumroll* It's with immense joy that I officially announce a partnership with ZenPop! YES, this means monthly sponsored unboxings for me and a $6 discount for YOU ALL to use on your first order! The discount is valid for all ramen, sweets and stationery boxes, all you have to do is click on the button below and enter the discount code SIN during the checkout!
Click here to get $6 off your first box
by using the code SIN at checkout 🤍
Enjoy the festive season by giving yourself a nice present, there are currently January-themed boxes ready to warm up the New Year!
🎄 MERRY CHRISTMAS & HAPPY NEW YEAR 🎊
---