As part of my partnership with ZenPop, I receive free boxes of Japanese goodies to review, providing an honest opinion on each product. ありがとう ♡
You know it's festival season when ZenPop gives you the Matsuri Munchies!
Even if you are not in Japan, who said you cannot experience some of the joys that the Matsuri festival brings? Such as the unique snacks that make the summer festivities even more beautiful, and above all, delicious! I don't know about you, but I find it hard to resist the strong temptations that the festive season puts under our nose . . . What do you say, do you want to test yourselves?
Experience a colourful festival through an explosion of goodness . . .

IPPEI CHAN YATEN NO YAKISOBA FROM MYOJO SYOKUHIN
Have you ever had a dish that reminded you of another one while standing out? Well, that's exactly what happened to me with this yakisoba. As soon as the noodles and flavoured sauce hit my palate I thought "Am I really eating yakisoba, or okonomiyaki?" They said it tasted like something cooked on an iron plate, but I certainly didn't expect to distinguish it so well and, boy, am I not glad? Believe me, tasting this yakisoba is quite an out-of-this-world experience that will take your mind to the wonderful food stalls on the streets of Japan!
PET RAMUNE DESUYO FROM HATA KOUSEN
Could we really experience a Japanese festival without even a game? Fear not, this sweet and fizzy Ramune drink hides a surprise you'll want to have fun with . . . After peeling off the top label, you use a plastic opener to magically drop a marble inside the drink. Yes, a marble! Want to retrieve it? Enjoy the whole drink and give it a try after you finish it, you'll have a marble-llous time!
KINGYO JELLY HAKUTOU FROM HATA SEIKA
This lovely jelly is inspired by the classic festival game 'Golden fish Scooping' and is not only a treat for the eyes, but also for the palate! Admittedly, it's a bit disappointing to ruin this golden jelly—look at that beautiful peach slice and cute little fish—but after you grab a piece with your spoon and you taste it, you'll leave that thought behind and have a moment of mouthwatering goodness that you won't forget . . . Bring it on, peach delight!
POTEMO GERMAN POTATO FLAVOUR FROM OYATSU COMPANY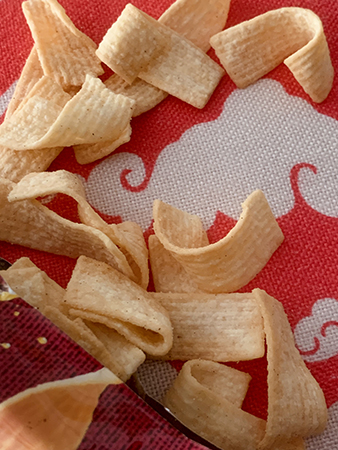 Inspired by the Japanese word "も" (mo), which means "also/too" in English, this snack is a clever combination of "potato" and "も" (mo) that gives a fun twist to this tasty treat! Crispy and bacon-flavoured, these chips exceeded my expectations. Shall we see if they exceed yours? *crunch*
HI-CHEW ASSORT FANTA FROM MORINAGA
A very welcome collaboration between Fanta and Hi-Chew, who have combined the great soft drinks and delicious candy in one amazing snack pack! Every fruity bite is a delight, and you want the chewy, tasty treat to last . . . What do you think of this assortment? Although I liked all three flavours (grape, orange, and melon), my favourite is the orange one—it is hard to go wrong by offering me an orange treat.
CHEESE ARARE ZOO CHI FROM IWAZUKA SEIKA
Cheese lovers, this is the perfect snack for you! Delicious crunchy rice crackers with a unique texture and fantastic flavour made from four different types of cheese and the addition of peanuts. Impossible to resist! Plus, it allows you to befriend the animal that most understands your love for cheese . . . Come on, tell me you don't find the rats on the packaging really cute, and they won't bite you!
HORA DEKITA! CHOCO BANANA SOFT CANDY FROM CORIS
"Hora dekita!" = "Congratulations! You made it!" And indeed, I made it! I assembled my own chocolate banana treat *cleans up a finger* without making a mess! *cleans up another finger* I had so much fun making this, it's also rewarding and tasty! You can usually buy this treat at Matsuri (traditional japanese festival) and, although I would have preferred to get it at a food stall there, it was nice to be able to create some from home. In case you need a break from adulting, grab this kit!
BABY STAR RAMEN UMASHIO FLAVOUR MINI FROM OYATSU COMPANY
What about a salty treat with an umami flavour of scallops? You can eat it as it is or you can use it as a salad topping, which could spark your creativity and make you have more than just an ordinary salad. Either way, you could find it interesting and something different worth trying.
KOTSUBU POTECO UMASHIO FLAVOUR FROM TOHATO
The ZenPop team told us they chose this snack because of a popular game called 'Wanage' or 'Ringu Toss', which is played at Japanese festivals. Since this snack resembles (on a smaller scale) the shape of the ring used in that game, you can easily see why this was simply the perfect choice, right? Besides, let's face it, who wouldn't want a playful treat? Oh yes, don't try to deny it, I can see you trying to figure out how many—if not all—you can put on your fingers!
SANKAKU CRACKER NORISHIO FLAVOUR FROM YAOKIN
Triangular mini crackers with a savoury nori seaweed flavour and just the right hint of saltiness. Yummy in my tummy! Quite a good snack to keep with you, you should definitely save some for afterwards—hashtag epic fail.
PETIT SHIROKUMA KUN JELLY RENNYU FLAVOUR FROM KINJO
You should know that the term "Shirokuma" (white bear) is associated with any ice-cream or shaved ice rich in fruits and condensed milk flavour. The lovely one I received in this box is a jelly that would be best frozen first—like I did—and then savoured in all its creamy, fruity pleasure. It's truly a refreshing and tasty little treat that can't fail to be appreciated also for the cuteness of the polar bear!
POLICKY BBQ FLAVOUR FROM YAOKIN
Satisfying pretzel sticks with a savoury barbeque flavour that make you grab one, two, three . . . Ok, you'll easily eat them all in one go—or so I've heard. Blame whoever made them so irresistible. (Thank you, Yaokin!)
DONGURI GUM LIFEGUARD FROM PINE
Is it a candy? A gum? Guess what? It's a bit of both! At first it looks like a candy, but when you bite into it, a gum pops out and you are amazed by the sensation they both give. It's something to try, just remember to avoid swallowing the gum while savouring this intriguing combo!
PACHI PACHI PANICCOLA FROM MEISAN
I think as children we all ate one of those candies that popped in our mouths and gave us the feeling of a fireworks feast. Who hasn't loved it and would like to relive it? Well, get ready for an explosion of cola-flavoured candy that is sure to make you relive those same emotions and cherished memories!
SOUR PAPER CAN GRAPE FROM YAOKIN
I don't know what it is with paper-like candy stripes, but I can't help smiling every time I see one, even if sometimes they're not my favourite flavour. Maybe it's because of the cute packaging, or because I really like the texture, what's certain is that I'm still smiling, so kudos for being such an adorable treat!
PETIT URANAI CHOCO FROM CHIRIN SEIKA
Say what you want, but for me chocolate is always a good treat, and if I get fortune-telling chocolate, well, then it's quite a gift! Indeed, each chocolate in this pack represents a category, so make sure of which one you want to deify because you'll find out what the future holds . . . Can this get any better? Actually yes, because if you feel lost and need help understanding the meaning behind the categories and fortunes, you can message ZenPop and the team will guide you. May the odds be ev— Good luck to you all!
UMAIBO YAKITORI FLAVOUR FROM YAOKIN
Flavoured with yakitori (grilled chicken) sauce, the umaibo treat has a soft and pleasant texture that lets you savour the flavour while almost melting in your mouth. It's a snack with a culinary twist, which is not bad in a festive summer, is it?
MINI BOTTLE FROM MARTA
Here's a unique treat made of granulated ramune candy and available in three different flavours: strawberry, lemon, and soda. You only get one in the box, so you won't know which one it is until you open it, and I got the soda one. It was definitely something I had yet to try, an intriguingly sweet treat with a nice texture, and overall delicious!
KORASETE YABERU SHERBET SODA ASSORT FROM ACE
Last, to help you endure the summer heat, here are some little sorbets in three different flavours inspired by popular fizzy drinks in Japan. I went for the cola one first, but I had all of them—you need to freeze them for about 12 hours before savouring these sorbets—and found each result quite refreshing!
********************
Wouldn't you say this was a great way to celebrate the Summer festivities?
Speaking of great stuff, I wanted to let you know that if you visit ZenPlus, there's a chance you can get something you wanted in these boxes but missed before. In fact, ZenPlus is a service that allows people to put their hands on lots of goodies, including a few snacks and items that were in past ZenPop boxes (snacks, stationery, anime, and limited edition). So, you have the chance to check out the products you have seen in my previous ZenPop reviews and maybe find something you were hoping for!
Remember, if you want to grab any of this month's themed boxes—which are all summery—you can get advantage of a special $6 discount (valid for snacks, ramen, and stationery boxes) by clicking the button below and using my promo code at checkout!
Click here to get $6 off your first box
by using the code SIN at checkout 🤍
---