I received a free copy of this book from NetGalley for an honest review.
This does not affect in any way my opinion of the book nor the content of my review.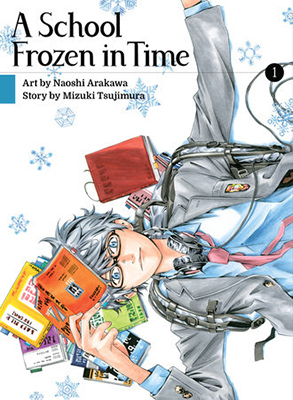 Series:
A School Frozen in Time #1
Published by
Vertical Comics
on April 6, 2021
Demographic:
Shōnen
Genres:
Horror
,
Psychological
,
School Life
Source:
NetGalley
Add to Goodreads

On a snowy school day like any other, classmates and childhood friends Hiroshi and Mizuki arrive at school to find the campus eerily empty. Before long, they find themselves trapped inside with six other friends, and even stranger, all the clocks have stopped at a very specific moment—the exact time when a former classmate jumped off the school roof to their death three months earlier. It turns out that this departed friend is their way out of their current predicament and may even be among their group . . . but no one can remember who it was that took their life on that sad day. The students must face themselves and their past memories to piece together the identity of this suicide victim or risk a similar fate—with their lives lost and forgotten inside these frigid school walls.

Imagine a group of teens stuck in school—at a specific time—suddenly not remembering the former classmate who took their own life. Could the departed student be among them? And if so, what is their purpose, and why now after three months from that tragic day?
With a premise like that, a thrilling read seems to be assured, and I can say it really didn't disappoint! A School Frozen in Time touches a very sensitive theme, and drags your mind into a very dark place with quite the mystery to solve . . . While the reader is immersed into the puzzling event taking place, the characters are frightened and forced to analyse themselves. Like all of us, they have fears, insecurities, and perhaps they even hide some secrets. Now though is the right time to come to terms with everything they have buried deep inside—and forgotten memories—if they want to come out of this (alive). Get ready for a day at school like you never had before . . .
Mysterious and twisted, this intriguing first instalment is a real page-turner that leaves you cursing when you reach the last panel. Indeed, you'll want more. Like, right now!
---